Most Reliable Machinery…! Best Material And Manpower…!!
In Tune With Your Needs…!!!

RAD Asphalt Factory LLC Dubai located in Dubai Industrial City. The new Asphalt Batching Plant is – Marini BE Tower 3000P - mixing capacity is 240 Ton/Hour - Model 2021.

This is the new Marini range of plant which represent concision and performance whatever working conditions. The plant components production process permits to obtain less wastes and a higher quality of the finished products, as for resistance, precision, functionality.

We provide high quality asphalt which meets the specification of RTA, Dubai Municipality and other clients. We used high quality gabbro raw material for the production of asphalt as per RTA Standard. RAD international believes in using the most high-quality machinery and products for all its service to ensure quality operations and products.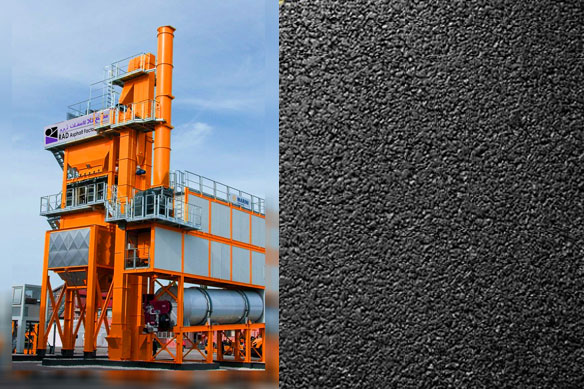 Asphalt Modification
Modified asphalt to reduce the amount and severity of pavement distresses and to increase service life. The primary benefit of using these high perform asphalt is improved rutting resistance with thermal cracking and overall improved mixture durability being secondary benefits. RAD Asphalt Plant is suitable for producing PMB mixture as per client requirement.

Bitumen Emulsion (SS1-h)
At RAD International, Bitumen emulsions are made using ATOMIX ® colloid mill, In the colloid mill energy is applied to the system by passing the mixture of hot bitumen and water phase between a rotating disc, cone or flywheel and a stator. The rotor as well as stator may be grooved or have teeth in order to create a turbulent flow. We are producing SS1-h as per RTA specification for road projects.

Cutback Asphalt (MC70)
RAD is proud that its cutback production meets RTA Specification. We are capable to produce MC-70 as per DCL standards for RTA road project. We are concentrating on quality procedure for SS1-h and MC-70 material for RTA Standard.