Our wet mix plant is specially designed to suit the typical UAE site conditions, mixing of crushed material with high level of homogeneous that is one of our core competencies. We are using high quality the raw material with size 32/20mm, 20/10mm, 10/5mm and 0/5mm proportionally blends as per specification with optimum water content. Aggregate are using from approved crushers shall conform to the gradation and other properties comply with the road construction specification. Our end product is a homogeneous reproducible mixture. Currently we are supplying for RTA Road projects, Dubai Municipality and Sharjah road projects.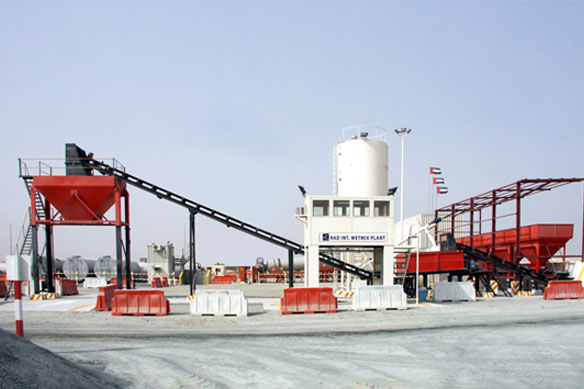 Technical specification
Capacity WM 120 TPH
Cold Aggregate Feeder all the 4 bins are fitted with individual DC/AC motors and gear box to control and regulate the flow of aggregate from each bin.
Mixing Unit: Mixing unit to designed to mix material with exact quantity of water content to prepare homogeneous mixture.
Control panel: Computerized with small cabin.
Water storage tank is fitted with best quality of standard pump to transfer exact quality of water to the mixing chambers.
We understand our responsibility as responsible road builder contractor and our ISO Certified process enables us to strictly adhere to standards.